The Best Modern Window Coverings for Every Room in Your Home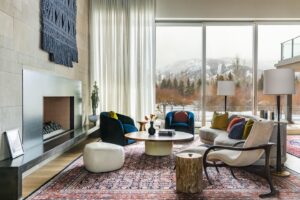 Modern window coverings are a great way to add some personality and style to any room in your home. 
There is the traditional option of blinds, but they don't always offer enough privacy or light control. For these reasons, curtains are often a better choice for windows that need more than just an aesthetic upgrade. Plus, there are so many different types of curtains available! You can find ones with patterns and colors that match your décor or floor-length curtains if you're looking for something really unique. If you want total blackout without sacrificing style, black-out curtains might be perfect for you! The best part about window coverings is that there is an option suitable for every room in your house. No matter what type of space you need to cover, we've got you covered! Here are the best modern window treatments for every room in your home:
Kitchen
 If you want a dramatic and elegant look for your kitchen, floor-length curtains may be perfect. They can even help make an otherwise small or dark space feel more open and bright. Alternatively, if you want something with a less formal appearance that still blocks out light, café curtains might be a great option, as they typically come in sheer fabric so light can filter through easily while still providing plenty of privacy.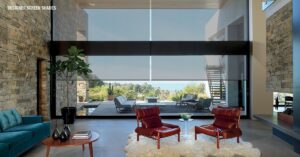 Living Room
 For a traditional décor style, heavy drapes offer a formal look. However, if your living room has a more modern feel, sheers may be a better option. Sheers are typically made from lighter fabrics that allow light to filter through, and they generally come in a variety of colors and patterns.
Bedroom
It's a common misconception that heavy drapes offer the best privacy for your bedroom, but sheers actually do a much better job at blocking out light. This way you can sleep as late as you want on weekend mornings without worrying about sunlight waking you up too early! Of course, if an ultra sleek look is what you're going for, blackout curtains will block out all light no matter when it is or how bright it might be outside.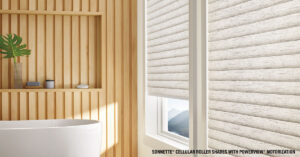 Bathroom
 For bathrooms with large windows or shower enclosures, you'll need to choose a curtain that can handle moisture. The best fabric for this is typically vinyl because it doesn't absorb water. This way, you won't have to worry about mildew or mold forming on your curtains! If you want something simple and unassuming, blackout curtains are an excellent choice for bathrooms since they don't interfere with the style of the rest of your décor.
Home Office
 From blackout lining to sheer fabrics that filter in light, there are plenty of options available when it comes to window coverings in your home office. If you spend most of your day in here but still need some privacy, sheers work best for this room type. If you only really use your home office for working, blackout curtains are ideal thanks to the superior light control.
Room Décor
 Room-darkening drapes offer a perfect color scheme and style that will fit right into any type of space without drawing too much attention to themselves. For example, these types of drapes often come in shades of greys and soft metallic hues so they'll blend easily even if you have other bright colors in your décor.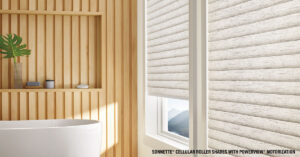 Laundry Room
 For a functional and no-nonsense appearance, choose a washable plastic fabric that you can easily wipe down. This way, you won't have to worry about your curtains absorbing the smells from wet clothes or falling debris from heavy loads of laundry! 
Contact us today for custom online blinds or a consultation today!