Different Window Coverings for Patio Doors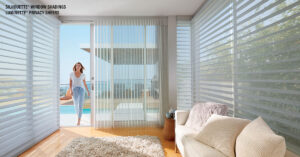 A patio door is any door that leads outside from a room in your house, typically your kitchen or living room. A patio cover can be as simple as a screen door with wooden panels next to it or as complex as an entire wall of glass sliding doors that lead into the backyard. No matter what type of patio cover you decide on, you will need to consider how you want to use the space and figure out what style and functionality best suit your needs and preferences. We can help you choose out the best window coverings for patio doors here!
There are three main types of window treatments available for covering a patio door: curtains, blinds, and shades. Each has its own benefits and disadvantages so read below to find which one is right for you!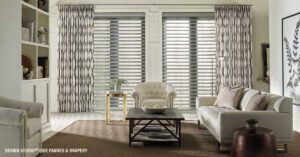 Curtain Rods For Patio Doors
Curtain rods are a simple and cost-effective way to add privacy and elegance to your patio door. They can be made from a variety of materials from metal to wood, so you will want to carefully consider the décor in your home when choosing what type of curtain rod you should install. In addition, many smart designs have their rods attached directly into the wall framing behind the curtain panel for added stability and structural support.
Blinds offer excellent coverage but tend to require more maintenance than other options because they need a regular cleaning or else they start looking dirty and worn down. If you do not want any light coming through your patio cover, think about installing vertical blinds of horizontal especially if it is positioned to face a window in your kitchen.
Vertical Blinds For Patio Doors 
When you have a patio door that is directly next to a wall, it often leaves the area around the door exposed to drafts and can get very cold in the winter months. In this case, shutters are an excellent option because they provide great insulation from both heat and cold air while adding beautiful architectural detail wherever you decide to install them. Plus, many have convenient automated opening functions if you want to let some fresh air into your home but don't want a gust of wind blowing things off your tables!
Shades tend to be one of the most popular options when it comes to covering a patio door because they provide a lightweight, clean and modern look while still providing the same level of functionality and insulation as other styles. The best part about shades is that you can choose between manual or motorized options to get just the right amount of ventilation for your space.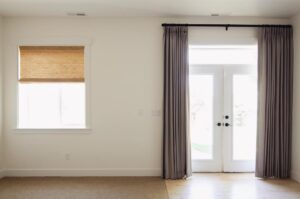 Shades For Patio Doors
Manual shades are easy to use but do not provide much flexibility because they need to be pulled up and down every time someone wants some fresh air in their home. Motorized blinds are great if you want consistent privacy throughout your day because all you have to do is press a button on the remote control or automated switch. This saves energy since it keeps your shade closed when no one is around!
In the end, the right cover for your patio door should meet all of your personal preferences. It should be easy to open and close as well as be a functional solution that provides adequate insulation from heat and cold air throughout the year. If you keep these three things in mind when choosing what type of window treatment to use on your patio door, you will find that it quickly becomes an essential part of any living space!
Contact us today for more information about blinds services near you!